Australian Geography
Australia is in the Southern Hemisphere. The tectonic plate on which Australia sits is the Australian Plate. Around Australia there are the Indian ocean, the Pacific ocean, the Tasman sea, the Timor sea, the Arafura sea, the Coral sea, the Gulf of Carpentaria and the Great Australian Bight. The biggest islands in Australia are Tasmania, Melville island, Kangaroo island and Groote Eylandt.
In Australia there are 3 main rivers:
The Murray river, the Darling and the Murrumbigee.
The superficy of

Australia

is

7,686,850 km

²
The capital of Australia is Canberra
There are 7 areas: Western Australia, Northern territory, Queensland, South Australia, New South Wales, Victoria, Tasmania.

The major Australian towns are Sydney, Canberra, Melbourne, Perth, Brisbane and Adélaïde.
The Great Barrier Reef is the world's largest coral reef. The GBR is east of Australia and in the Pacific ocean.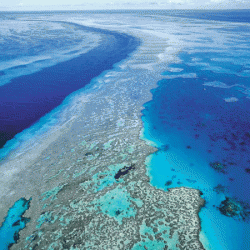 Uluru is a big orange rock. Uluru is 348 metres tall. It's in the Northern territory and in the centre of Australia.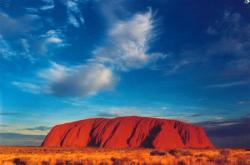 North of Australia, there is Papua New Guinea, South-East there is New Zeland, North-East are the Solomons Islands and North-West is Indonesia.
The main Australian deserts are the Great Victoria desert, the Great Sandy desert, the Tanami desert and the Simpson desert.
There are vulcanos in Australia : Mount Canobolas, Mawson peak on Meard Island, Mount Nopies in Victoria, Mount Pitt on Norfolk Island, Mount Bates also on Norfolk Island, Mount Mac Donald on Heard Island and Mac Donald Island.
The 4 highest mountains are Mount Kosciuszko in New South Wales, Mount Osser in Queensland, Mount Cougal in Queensland, the Ball's Pyramid - which is an island and a mountain in the Pacific Ocean.
Click on the Video on Mount Koscuiszko